I'm Forecasting— The Worst Over
One way to gauge where the real estate market is heading is to look at mortgage application numbers. Those numbers bottomed out in mid-APR 2020; however, they were down only 10% this past week; and "[t]hat's an indicator that the worst is over," says Lawrence Yun, NAR Chief Economist.
The average mortgage rate for a 30-year fixed increased this past week two basis points to 3.28%, not far from the 3.23% all-time low set at the end of APR 2020. The average has stayed under 3.4% since the start of APR 2020, after the Federal Reserve began a bond-buying program aimed at greasing our country's credit wheels.
Experts forecast that mortgage rates will fall back down to 3.2% in the final two quarters of 2020; and possibly 3% before year-end. "The low rates will help bolster real estate demand as U.S. states begin easing pandemic restrictions," says Sam Khater, Freddie Mac Chief Economist.
Miami Shows Signs of Positivity
New home listings fared better in the Miami area than nationally, showing a 24% decline year-over-year in the week ending MAY 9, compared to 29% in the rest of the country. While those percentages might seem discouraging, the national new-listings statistic improved 10 percentage points from the week ending MAY 2, when listings were down 39%. Two weeks prior to the most recent report, listings across the nation were down even more, at 43%.
"While new home listings are still declining on a yearly basis, last week's jump shows some sellers are ready for a summer home sale— a positive sign for the market," says Danielle Hale, Realtor.com Chief Economist.
The decline in new home listings shows that the real estate market has yet to see supply turn back to normal. "However, some improvement could be on the horizon as more than two-thirds (75 of 97) of large metros are seeing smaller declines, including the three largest markets in the country New York, Los Angeles, and Chicago."
Combined with a modest year-over-year decrease of 2.5% in median price, a 14.8% increase in days on market, a dip in active home listings of 23.5%, and a price reduced count of -40%, Miami was ranked the 8th hottest housing market.
Compass National Market Snapshot
Over the last two weeks, the number of homes going into contract in most of the Compass markets has created an upward trend.
In regions that have lifted restrictions over the past 2 weeks, there is a notable uptick in properties going under contract.
In many areas where restrictions are not lifting restrictions, inventory levels remain low; and we have seen new properties being held back from coming to the market until restrictions lift.
Below you'll find real-time data from 17 of our markets, reflecting an increase in newly under contract inventory. Our Compass market data showcases activity as it is happening, not after sales have closed, which provides you with real-time data.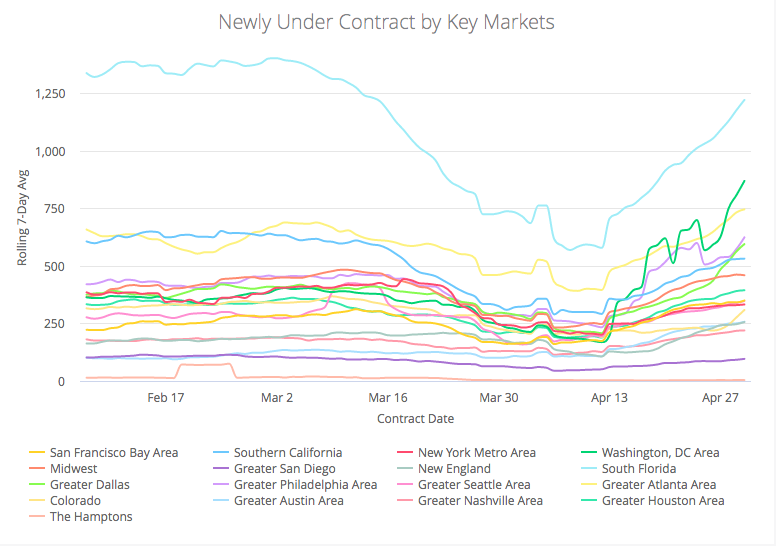 South Florida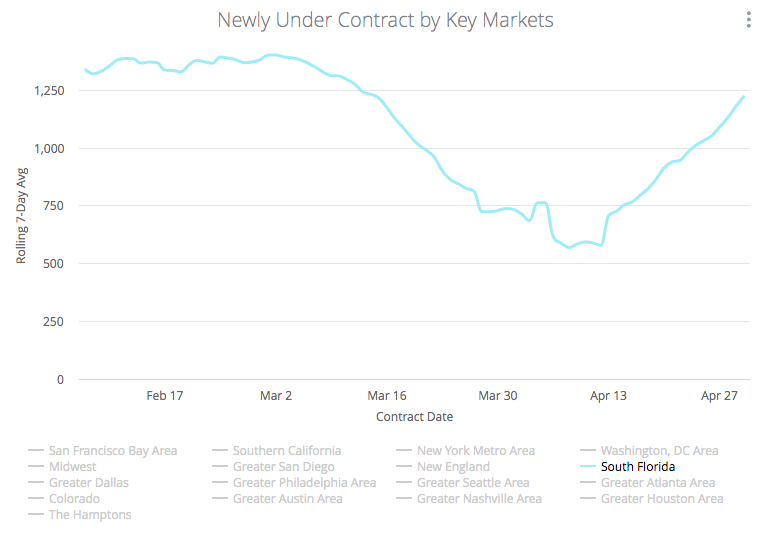 Greater Atlanta Area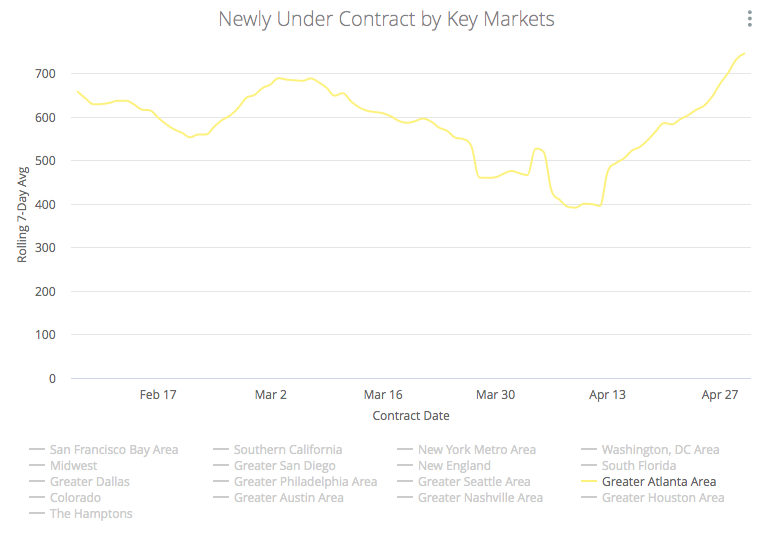 Greater Austin Area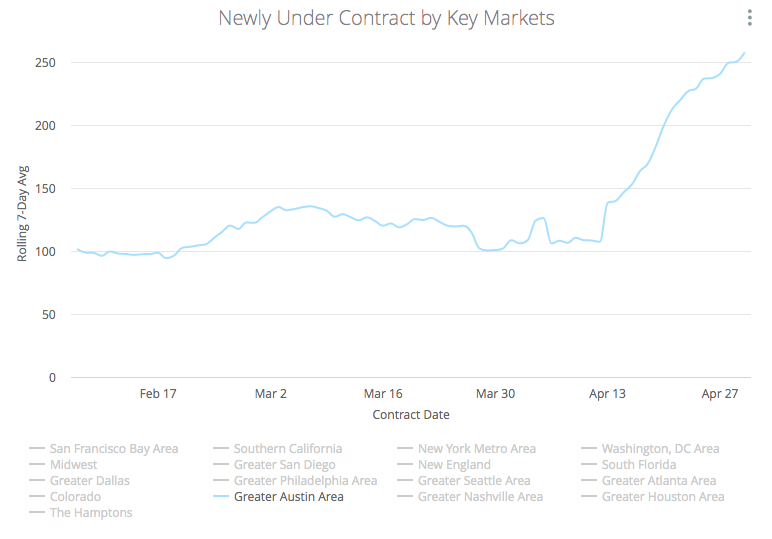 Colorado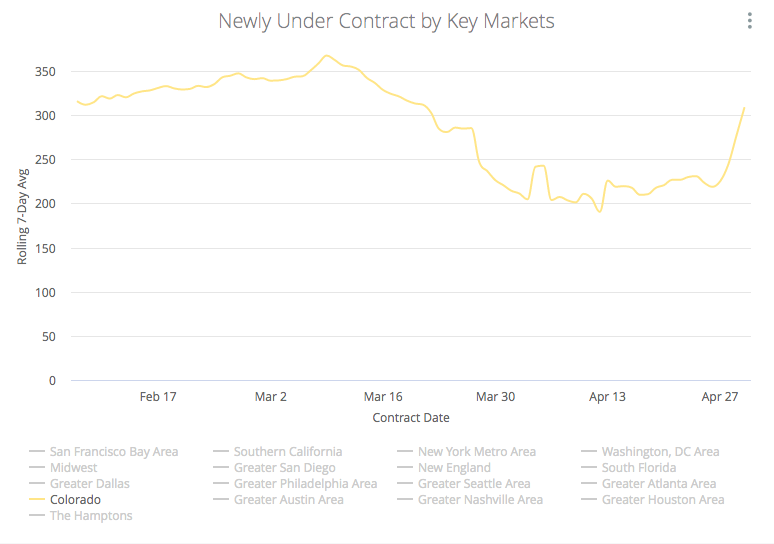 Dallas-Fort Worth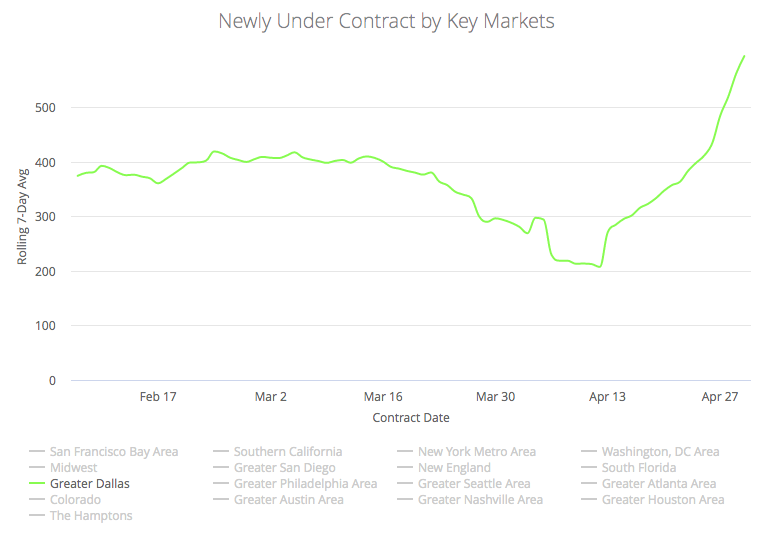 Hamptons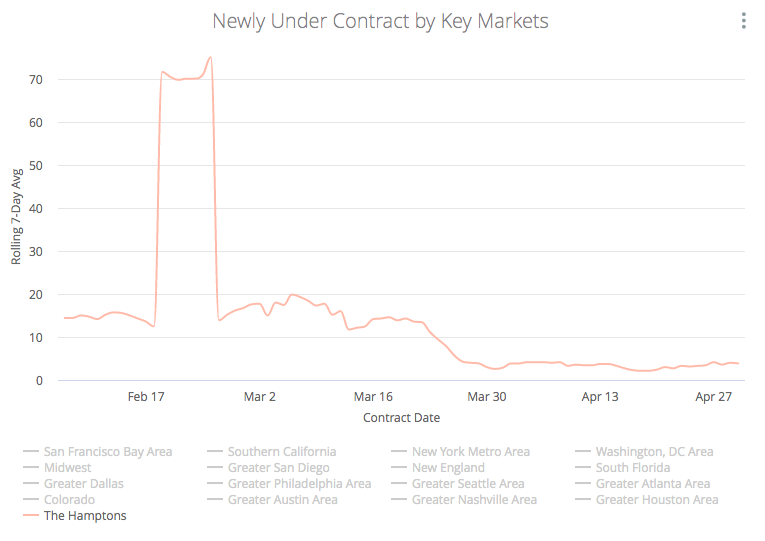 Greater Houston Area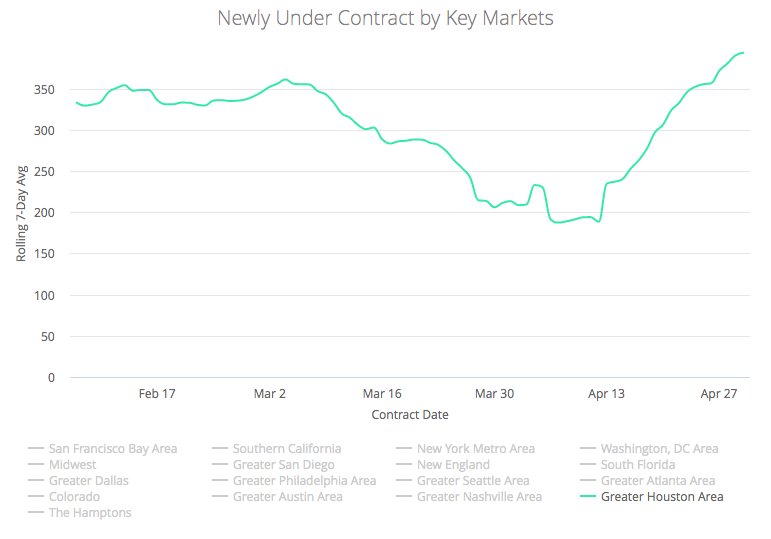 Midwest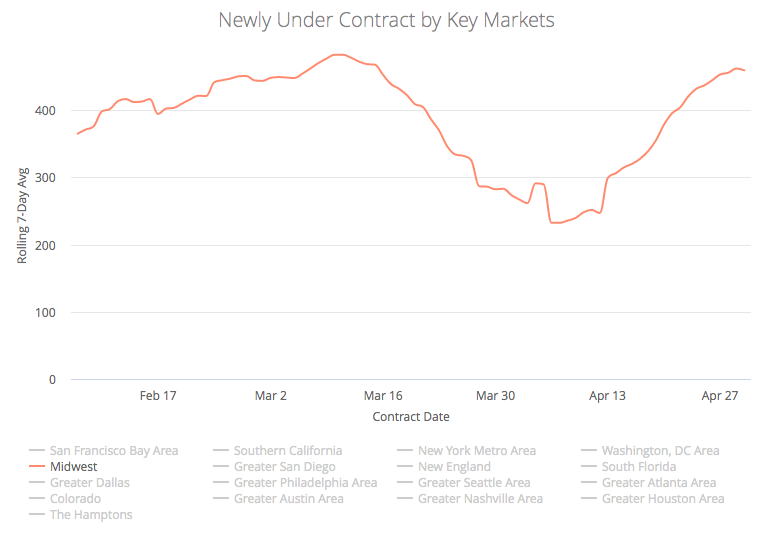 Greater Nashville Area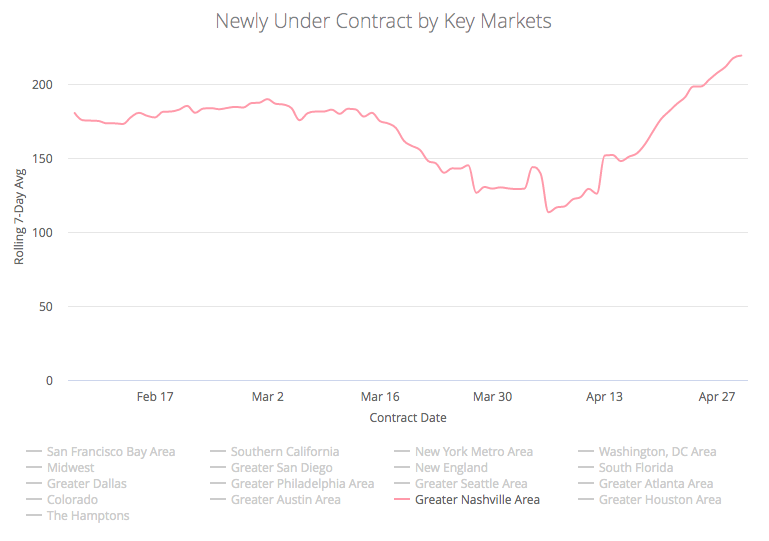 New England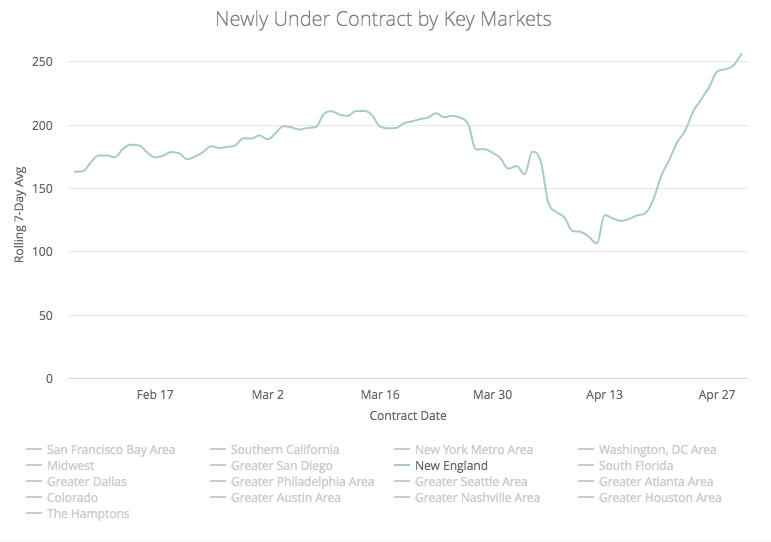 New York Metro Area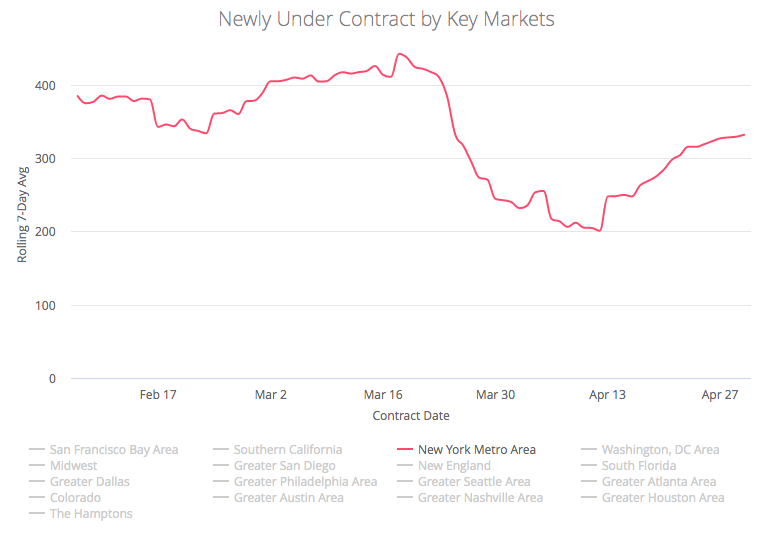 Greater Philadelphia Area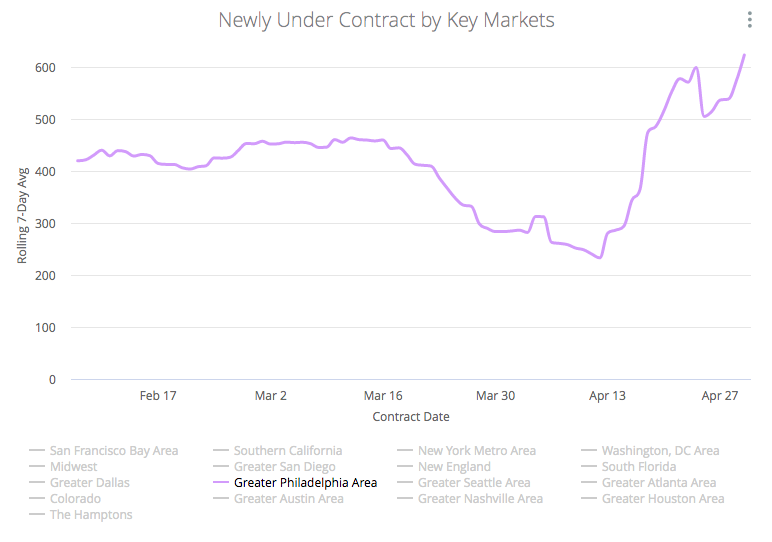 Greater San Diego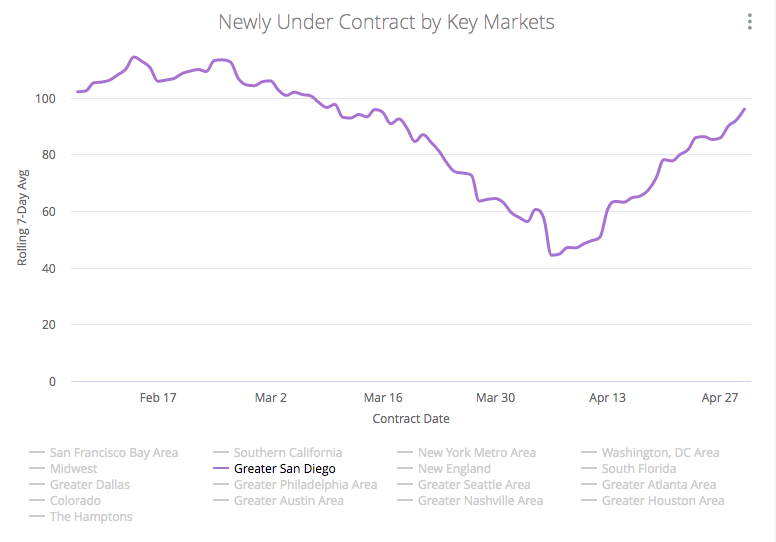 San Francisco Bay Area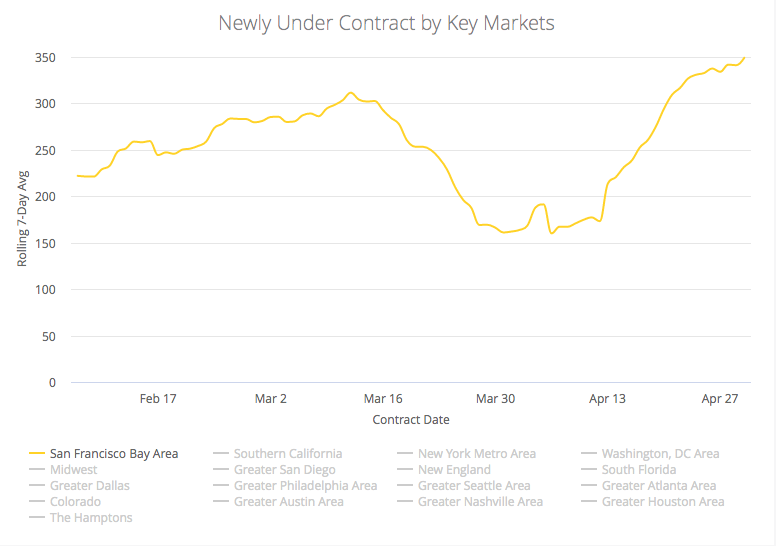 Greater Seattle Area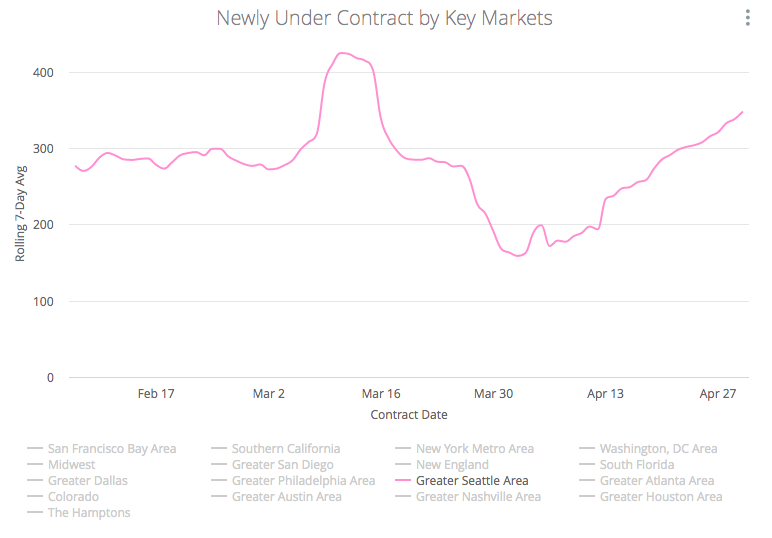 Southern California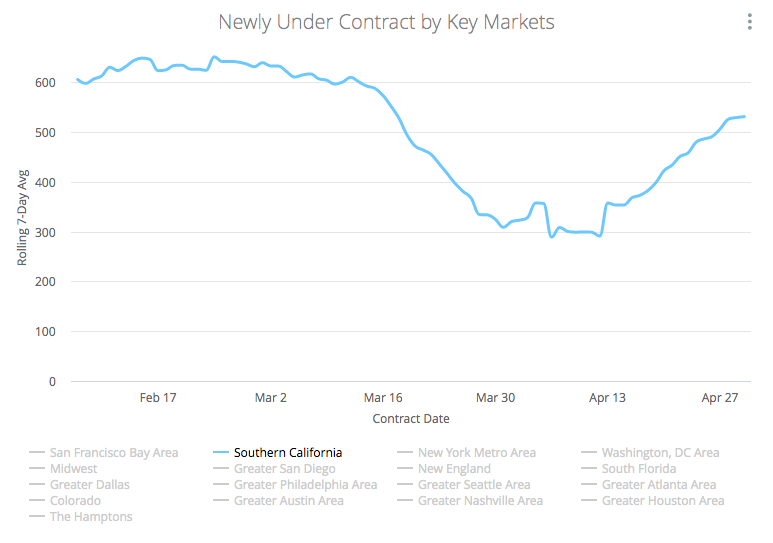 Washington, DC Area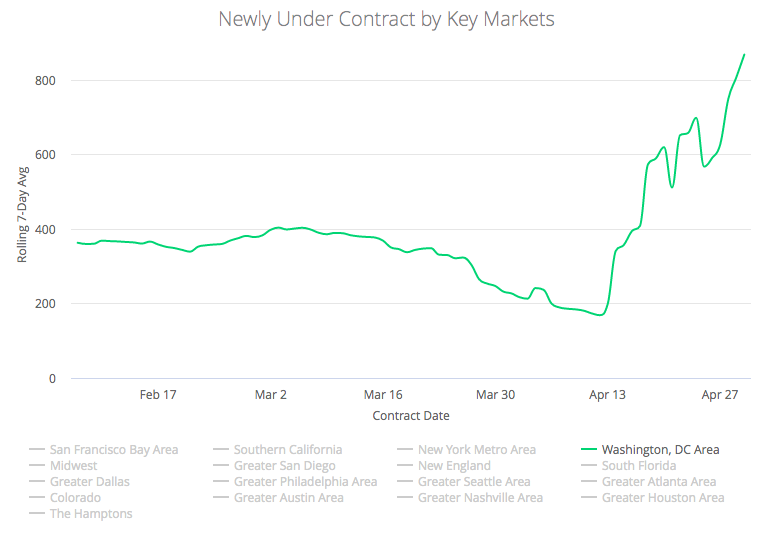 I've Got Real-Time Data on Your Neighborhood
By utilizing Compass technology, I have access to curated real-time market analysis, based on specific needs and interests.